Product Description
*Please allow a lead time of 7-10 business days for processing
DICOR EPDM Rubber ROOF
This type of roofing has been installed on recreational vehicles since it came on the market in 1983. Therefore, you can be sure that it is a time-tested roofing option every motorhome owner ought to consider.
Check out the better option for Rubber Roof
.040" Thick (0.762 millimeters) thick
8' 6" wide
Due to high demand RV Parts Nation reserves the right to substitute Superflex Rubber Roof at no additional charge.
White on Black EPDM has been installed on RV's since 1983. Due to low maintenance, ease of repair, clean appearance, noise insulation, and temperature insulation, white on black EPDM roofing membranes are now standard on 3 out of 4 new RV's. Now the energy efficiency of white on black EPDM has been discovered for uses such as house boat roofs, mobile home roofs, and residential flat or low pitched house roofs. Note: White on black EPDM membrane is not designed for heavy foot traffic.
RV Rubber Roof
EPDM is an extremely durable synthetic rubber roofing membrane
Due to its temperature insulation, noise insulation, clean appearance, ease of repair and low maintenance, white on black EPDM RV rubber roof membranes are standard on most recreation vehicles.
In fact, the energy efficiency of these RV rubber roof membranes is one of the reasons why they are now used as low pitched house, residential flat, mobile home and house boat roofs. NOTE: However, you should note that this type of RV rubber roof is not designed for foot traffic. Be careful when walking on the roofing. At RV Parts Nation, we sell black on white EPDM RV rubber roof by the foot. Please enter the length you desire into the specified quantity field to place an order. We will ship your roofing as one single continuous piece. The seamless RV rubber roof system is perfectly suited for retrofit installations on recreational vehicles. It flexes well, giving it a snug fit around corners. Additionally, your EPDM roofing system will adhere to bonding agents readily. In the long run, these roofs eliminate roof rumble and require less maintenance over their lifetime than the other rubber roof systems you will find. Overall, RV rubber roofing assures you of a watertight and weather-resistant roof that is easy to maintain. The superior tensile strength, tear resistance and puncture resistance all combine to give you a roofing system that will last a long time, probably over the lifetime of your recreational vehicle. Place your order for RV rubber roof today at RV Parts Nation and we will ship your order as soon as it is processed.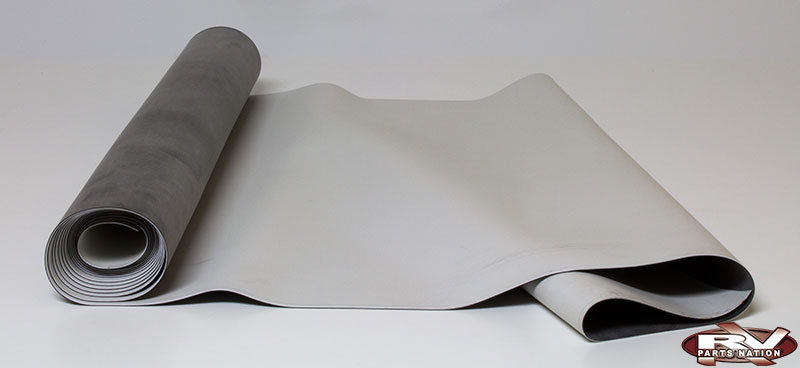 At RV Parts Nation, we are dedicated to providing you with complete solutions for all your recreational vehicle parts and accessories. Our heavy duty rubber roofs, therefore, are the longest lasting and strongest in the RV market. You can now place your orders and we will custom-cut the roofs according to your specifications. We also provide limited lifetime warranties from the suppliers and manufacturers from whom we source these parts.
All the RV rubber roof materials and accessories from RV Parts Nation are fully compatible. We carry an entire line of roofing products for your home, including termination bars, pipe flashings, inside and outside corners, T-joint covers, primers, perimeter strips, seam tapes, cover tapes, and bonding adhesives. You will also find that our discount prices and quick shipping are unbeatable.
Our RV rubber roof products and materials are technically advanced to ensure watertight and easy – to – maintain roofs for your recreational vehicle. Ideal for aftermarket applications, they have superior tear resistance and tensile strength, making them highly resistant to weathering by the elements. They will, in additional, resist uneven weathering, chalkiness and/or fading of the installed RV roofing system. These roofing products will not discolor with age, and are both refractive and reflective to dangerous UV rays.
Get in touch with RV Parts Nation today for all your RV rubber roof, roofing products and roof accessories. We have the best products in the market, guaranteed to provide your recreational vehicle with a resistant, anti-aging roof.
Product Reviews
Write Review
Fast and realiable

Posted by Unknown on Oct 16th 2018

I would definitely order from this company in the future ,

nice, waterproof material

Posted by Steve, northeast Penna on Oct 5th 2017

Used this to make custom skirting to cover hinges of leaking cargo bay door hinges..... works great so far

time

Posted by gene on Sep 16th 2017

product is of a very good grade took way to get this

RV rubber roof

Posted by Unknown on Jul 25th 2016

I very satisfied with the new material. The shipping is not excellent. One hand does know what the other hand is doing.


Very Happy!

Posted by Dave on Jul 9th 2016

Excellent products and shipped quickly, I will do business with again!

Thumbs Up !

Posted by Meanstreak on Jun 21st 2016

Got What I needed quickly. worked for my application



Looks Amazing

Posted by Matt on Jan 11th 2016

Looks like a factory installed new roof.