Product Description
*Please allow a 10-12 business day lead time before it ships****
Rubber Roof Kit 15 Feet
15 Feet of Rubber Roofing by 8 1/2 feet
4 tubes of Self Leveling Sealant (11 oz)
2 Rolls of Putty Tape (1/8" (thick) x 1" W x 30' L)
1 Gallon of Rubber Roof Adhesive (8010)
Rubber Roof Kit 20 Feet
20 Feet of Rubber Roofing by 8 1/2 feet
4 tubes of Self Leveling Sealant (11 oz)
2 Rolls of Putty Tape (1/8" (thick) x 1" W x 30' L)
1 Gallon of Rubber Roof Adhesive (8010)
Rubber Roof Kit 25 Feet
25 Feet of Rubber Roofing by 8 1/2 feet
4 tubes of Self Leveling Sealant (11 oz)
2 Rolls of Putty Tape (1/8" (thick) x 1" W x 30' L)
1 Gallon of Rubber Roof Adhesive (8010)
Rubber Roof Kit 30 Feet
30 Feet of Rubber Roofing by 8 1/2 feet
5 tubes of Self Leveling Sealant (11 oz)
4 Rolls of Putty Tape (1/8" (thick) x 1" W x 30' L)
2 Gallons of Rubber Roof Adhesive (8010)
Rubber Roof Kit 35 Feet
35 Feet of Rubber Roofing by 8 1/2 feet
5 tubes of Self Leveling Sealant (11 oz)
4 Rolls of Putty Tape (1/8" (thick) x 1" W x 30' L)
2 Gallons of Rubber Roof Adhesive(8010)
Rubber Roof Kit 40 Feet
40 Feet of Rubber Roofing by 8 1/2 feet
5 tubes of Self Leveling Sealant (11 oz)
4 Rolls of Putty Tape (1/8" (thick) x 1" W x 30' L)
2 Gallons of Rubber Roof Adhesive(8010)
*Products in picture are subject to change
Due to high demand RV Parts Nation reserves the right to substitute Superflex Rubber Roof at no additional charge.
RV Rubber Roof Kit
A roofing kit can come in handy for a number of varied projects. You might need it to fix a part of some construction you are working on or even to fix parts of broken or leaking roofs. With the RV rubber roof kit, you will definitely love the affordability and ease of use that comes with the set. It comes with a number of components that make it the right choice for a number of different projects. As a roofing option, this kit is definitely the best in its class and comes in a range of three different sizes each of which has a number of components to give you success on your project.

The first kind of RV rubber roof kit is the one that comes at 25 feet in size. This means that it is a whole package made up of 25 feet of rubber roofing by 8 and a half feet. With this comes 5 tubes of self leveling sealant which will make it a breeze for you to fix the rubber roof to any king of surface. The sealant is very efficient and fills in all the holes and anomalies that might appear on surfaces. This sealant has been made according to strict standards of quality to ensure that it does work properly in the areas where it is applied.

Additionally, the rubber roofing kit comes with 4 rolls of putty tape to help you get the roofing fixed even better and more appealing aesthetically. The putty roll can be used to fix parts of the rubber roof which have been separated in order to fit certain places. The rolls are long enough to fit your usage even when you are doing this work on a huge area. Last but not least, the kit comes with 2 gallons of rubber roof adhesive which makes it the ideal choice for use even when the project is large.

The other sizes that the RV rubber roofing kit comes with are the 30 feet and the 35 feet kits. These are ideal for large scale projects which will require a lot of area to be covered. For a project on a large scale, the large sized kits would definitely be the right choice since they cover a large area and with the accompanying products or components, your project will be successful and lots of fun. Your choice will definitely depend on the kind of roofing project that you would like to work on. If you just need to roof a small piece of area where you stay or work, then the RV rubber roofing kit will work just right for your needs. It comes in an array of sizes that you can choose from according to your particular requirements.

The RV rubber roof kit comes with everything you would require for a rubber roofing project. It has a number of components to help you through the roofing with the right results since everything you would require for a project comes in handy with the kit itself.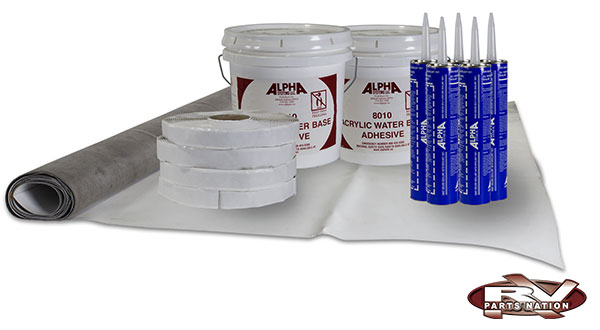 Product Reviews
Write Review
good product

Posted by Unknown on Jul 5th 2017

I was super happy with everything except the putty tape it stuck to itself and was difficult to use the rest of the products worked perfectly

good product!

Posted by Unknown on Oct 20th 2016

Good materials. Definitely enough for the job, just wish the rubber wasn't sent folded up like it was. Caused for longer install time

25 foot kit

Posted by Unknown on Oct 11th 2016

The product is awesome the price is the cheapest I found but if your wanting it fast it won't happen took almost a month to receive it but if your in rush I recommend this product

Great Product

Posted by Peterscq on Aug 25th 2016

Product was great, plenty of materials to complete job. Shipping took 4 weeks. No info on the sight about it being back ordered. Great product once it arrived.

very good product

Posted by Unknown on Jul 4th 2016

Received the roof kit and I was expecting less than high quality. But I was pleasantly surprised that the kit was using the exact same material that the camper had originally.

Good value.

Posted by Unknown on Jun 20th 2016

The kit had everything you need to complete the project. Just make sure you order it a month before you get started.

everything included

Posted by Unknown on Jun 4th 2016

I looked around on the internet before finding RV Parts Nation, they had the best price. The package FINALLY arrive and everything was nicely package with everything we need to replace our roof at a great price. I would have given them five stars but I am pretty sure I could have walked the 250 miles to their store and back faster than the package was shipped. Seriously slow ship pining over two weeks between order and arrival